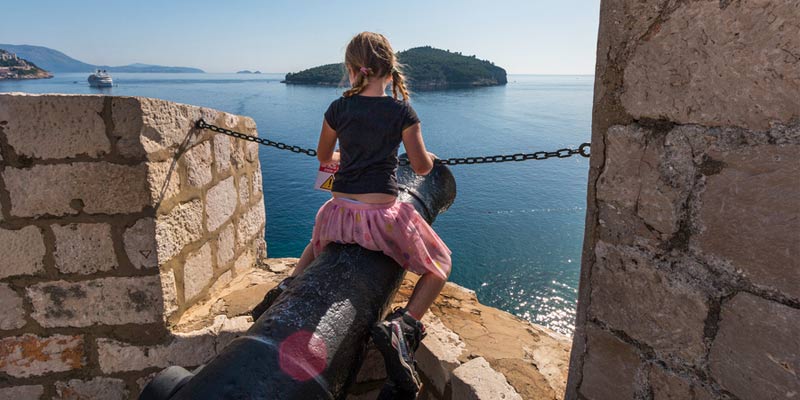 Dubrovnik family tour can be fun and exciting. So if you are coming to Dubrovnik Port or you are still planning a trip to Dubrovnik with your family here are some tips to get the most out of it!
Dubrovnik family tour will give the kids an opportunity to explore and learn. Dubrovnik history have lot of interesting stories and places which will touch their imagination. It is really magical place. Various popular fiction movies were filmed here like Pippi Longstocking, Games of Thrones and Robin Hood.
Dubrovnik Family Tour
This are places we recommend you to visit on your tour:
Dubrovnik City Walls: Walls are the main attraction of Dubrovnik. Views are astonish and that is best place to hear Dubrovnik Story. It is important to take hats and water especially during summer season from 11:00 AM to 15:00PM. Lot of stairs can be too hard for small children and old people, but there is option to walk only half of the walls. It is not recommendable to go on walls if someone is afraid of heights.
Maritime Museum & Dubrovnik Aquarium: both are situated in St John Fort in Dubrovnik Old Port.  In maritime museum you can learn about shipbuilding and sea trade from its very start to the fall of the Dubrovnik Republic and World war 2. Dubrovnik Aquarium in the fortress is a unique ambient for visitors who like to enjoy Adriatic fauna. This is short journey through Adriatic sea.
Small park near Pile City Gates: there is small park in Pile area with swing's  and seesaw's for young kids.
Dubrovnik Family Tour – Private Tours
Most of families like to go ashore together, so the best option are private tours.  With private tour you can easily get away from the crowds. Young kids are usually slow and it is much easier if you have your own tour guide.
Booking tip for Budget Travel
Dubrovnik private tours are best option for families according to budget!  Prices per tour and not per person are usually best buy. So important tip during booking allays notice that you are family with kids !
To book local Dubrovnik private tours you can visit "Dubrovnik Tours Catalogue 2017".