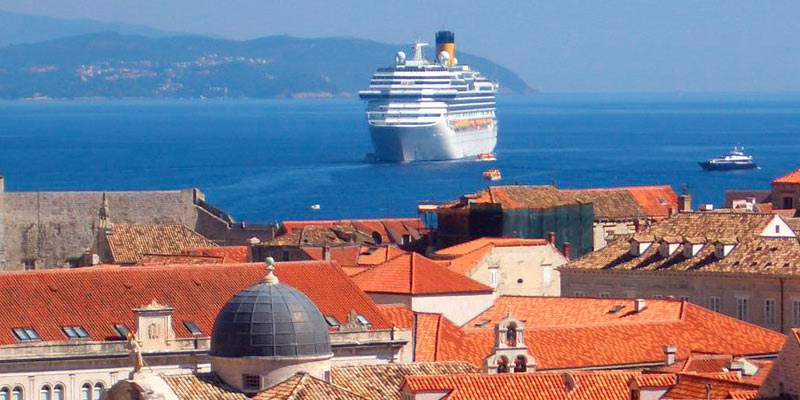 Dubrovnik old town port is beautiful medieval port. That is also a place where tenders from cruise ships and yachts anchored at Dubrovnik anchorage are taking berth. So if your Ship or yacht is going to drop anchor at Dubrovnik anchorage you will have the same view on medieval Town as seaman's have during they visit of Dubrovnik in 15 and 16 century.
Dubrovnik Old Town Port & Anchorage Guide

Dubrovnik Old Town Port is situated at eastern part of the Dubrovnik City. Old Dubrovnik Port is protected by breakwater Porporela in front of St. John fortress and Kaše breakwater. Ships and tenders should approach Old Dubrovnik Port at approximate distance of 25m from breakwater. Ships and tenders approaching port are restricted to draft of 3 meters. Anchorage in front of old Dubrovnik port is opened to a South and South West wind which can cause high waves and rough weather. When there is bed weather forecast Cruise ships will proceed to Dubrovnik Port (Gruž). Big ships should drop anchor southeast of port in front of Portoč bay at Lokrukm Island. Small ships and yachts can drop anchor southern of bay Gornja Bočina on eastern side of Lokrum Island.
Important facts for Dubrovnik Old Town Port visitors:
Language and currency: Dubrovnik local people speak Croatian language and majority also can understand basic English. Currency in Croatia is Kuna. There are many ATM machines in the main street of Stradun. Kuna is only currency you can get from ATM machines! There is no street criminal so you can feel free to walk in the city.
Visiting the city: Dubrovnik is a city of 45 thousand people and main attraction is Old City. Transfer to the Old City with tender boat vary due to your ship or yacht anchorage position and average distance from midlle of anchorage is 0.8 NM. Once you are on Old port pier everything is close to you.
Group tours: Cruise company organise Dubrovnik tours as group tours. These tours are usually very well organised, everything is predetermined and you are part of big group following the tour schedule.
Private tours: Private tours are usually booked by experienced passengers which like to have more personalized tour, have they own guide, have more free time. You can book a private tour and still be on budget! Read more about local private tours here … or visit: Dubrovnik Local Tours Catalogue 2015
Cruising companies visiting Dubrovnik Old Town Port and Anchorage
All mayor cruise companies are scheduled for Dubrovnik Anchorage especially Seabourn, Windstar Cruises and Star Clippers. Lots of yachts are also on Dubrovnik Anchorage during summer time season.