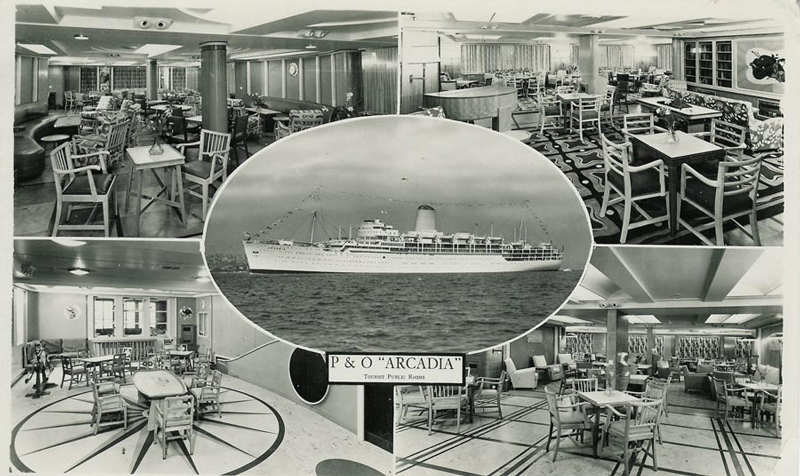 The Arcadia of 1954 was named after the 6,603 tons steamer of the same name which entered P&O service in 1888. Her name comes from the Greek 'Arkadia', a region of the Peloponnese, which as a place of simple pleasure and quiet, the ideal of rural felicity and pastoral simplicity. The Arcadia of Ancient Greece was often chosen as the background for pastoral poetry. The native of Arcadia was known to be the one who led a quiet and simple life. Arcadia was built by John Brown and Company of Clydebank at an estimated cost of £5 million, and launched on 14th May 1953 by Mrs D.F. Anderson, the wife of P&O's Deputy Chairman. Arcadia's gross tonnage was 29,871, 271ft long and 91ft breadth. Her single reduction turbines developing a maximum of 42,500 shaft horse power giving her a service speed of 22 knots. Arcadia sailed on her maiden voyage from the Tilbury Landing stage on 22nd February 1954, bound for Port Said, Aden, Bombay, Colombo, Fremantle, Melbourne and Sydney, arriving in Sydney on 27th March, and later returning to England by the same route. Immigrants to Australia filled the Tourist Section of the ship.
DUBROVNIK CRUISE PORT HISTORY- P&O Arcadia

On 1 April 1959, Arcadia arrived at the Harland & Wolff shipyard for a major refit, during which, air conditioning was extended throughout the ship, and cabins and public rooms upgraded and refurbished. Leaving Belfast on 11th June, Arcadia made several cruises from Southampton before returning to Australia. During her Mediterranean cruise ship visit Naples, Lisbon and Dubrovnik Cruise Port which that time was par of Yugoslavia.On 22nd November 1959, Arcadia departed Sydney on her first cruise from an Australian port. On 29th January1979, Arcadia left Sydney for the last time heading for Manila, and on to Hong Kong. On 28th February ship arrive in Kaohsiung Taiwan where she was turned to a scrap metal. P&O shipping company named two more ships with same name and forth Arcadia is still visiting Dubrovnik Cruise Port now-days.