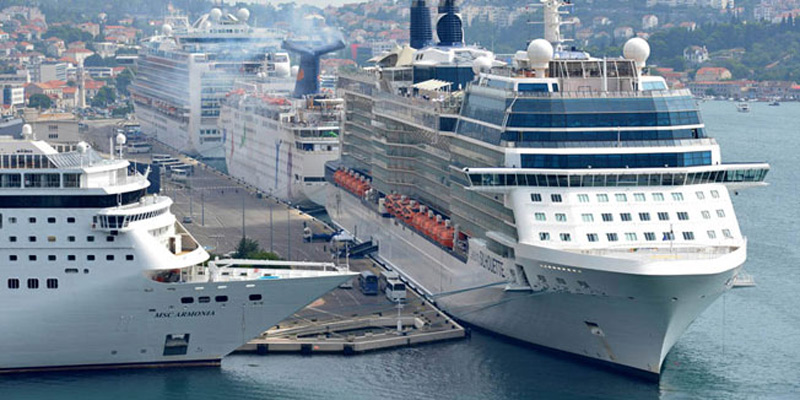 Dubrovnik Port is popular cruise port and also main gate for more than million cruise ship passengers every year.  Dubrovnik cruise port is situated at bay of Gruž and it is called Gruž Harbour by locals. If you are planing to visit Dubrovnik Port with cruise ship than it will be also your start point. So before your visit it is good to know some facts about port and destination.
Dubrovnik Port "Gruž Harbour" Guide

Dubrovnik port is situated at eastern Adriatic coast of southern Croatia. Ships usually approach from the south west through "Velika Vrata" and pass south of island Daksa and main land to the port pier. Port is situated at district of Gruž about 3,5 kilometers from the Dubrovnik old town.
Before war for independence of Croatia 1991 Dubrovnik Port was consist of  facility's for passengers, timber storage and refrigerated plants. During war these facilities were heavily damaged so 2009  big investment was placed to renovate and expand port. Now-days Dubrovnik Port is specialized as cruise port which can receive up to three mega and two middle size cruise ships.
Important facts for Dubrovnik port visitors:
Language and currency: Dubrovnik local people speak Croatian language and majority also can understand basic English. Currency in Croatia is Kuna. There are many ATM machines in the city. Closest ATM machine is near bus station about 50m from main port gates. Kuna is only currency you can get from ATM machines!
Visiting the city: Dubrovnik is a city of 45 thousand people and main attraction is Old City. There is shuttle bus and taxi station in port. Ride to the city vary from 15 to 30 minutes due to density of traffic. There is no street criminal so you can feel free to walk in the city. Distance between cruise port and Old town is about 2 kilometers but it is not flat ground so people rather use transport. There is public transport station 50 meters off port gates. Sometimes in the morning the bus can be full because people from suburbs are going to work.
Group tours: Cruise company organise Dubrovnik tours as group tours. These tours are usually very well organised, everything is predetermined and you are part of big group following the tour schedule.
Private tours: Private tours are usually booked by experienced passengers which like to have more personalized tour, have they own guide, have more free time. You can book a private tour and still be on budget! Read more about local private tours here … or visit: Dubrovnik Local Tours Catalogue 2017
Cruising companies visiting Dubrovnik Cruise Port of Gruž
There is about 500 cruise ship berthing each year. All mayor cruise companies are scheduled for Dubrovnik Cruise Port like; Royal Caribbean, Carnival Cruise, P&O Cruise, Costa Cruise, Norwegian Cruise, MSC Cruise, Princess Cruise, Celebrity Cruise, Wind Star, Cunard Line, Disney Cruise Line, Azamara Club Cruises, Regent Seven Seas, Pullman Tour, TUI Cruises, Holland America Line, Oceania Cruises, Silversea and others…